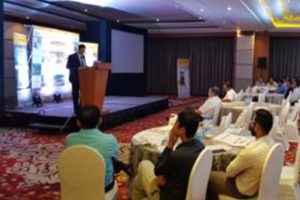 The Gurugram Knowledge Forum was held on at Leela Ambience Hotel, Gurugram on 26th July, 2018. 100+ clients were a part of this encouraging and informative event. We thank everyone for trusting us with your queries and encouraging us to excel in our field of operation.
ElectroMech Knowledge Forums are a gathering of renowned names from different industries. It includes top officials of various companies, consultants, industry veterans and other opinion leaders. Apart from tabling new ElectroMech solutions, these Forums also serve as a platform for top leaders in the industry to interact with each other and share concerns related to their specific area of business.
ElectroMech Knowledge Forums are organised in different parts of the country where team ElectroMech discusses their new product developments as well as the solutions provided for different challenging projects.