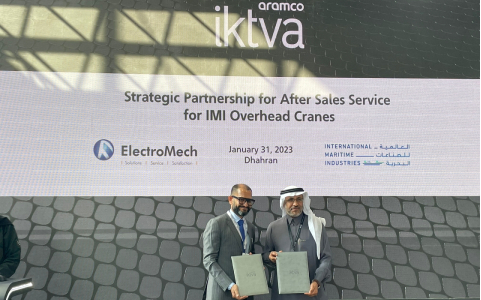 International Maritime Industries in #SaudiArabia and ElectroMech have signed a Memorandum of Understanding (MoU) for the complete after-sales services for their entire fleet of overhead cranes at the largest shipyard in the region at Ras Al Khair, under the aegis of the #IKTVA2023 initiative of Aramco.
Having already supplied most of the cranes for this under-construction project in the Kingdom of Saudi Arabia, this strategic #partnership showcases the trust bestowed upon our technical expertise, excellent logistics, and healthy spare inventory.
The long-term MoU further reinforces collaborative efforts towards the realisation of #SaudiVision2030. Also, @ElectroMech is glad to be a part of this ambitious journey and utilise this #opportunity to showcase our ability to address various challenges through our wide range of industry-leading solutions at a global level.